Taking Great Images of Cars at Goodwood Festival of Speed
This year we had the pleasure of attending the Goodwood Festival of Speed. This always promises to be a great and major event that showcases the latest and greatest cars from all manufactures. 
Whilst the event itself is without fault, it is tricky to get interesting and different images of the cars on display. With everyone taking what seems to be the same photo of every car you wonder if there is any point in taking a camera at all! We love a good car event and can't stand missing a great photo opportunity so here is what we do to make sure we get some cool content at busy shows. 
We travel light! No ones likes to lug around big heavy cameras or bags so we like to take minimal amounts of lenses. Mainly we aim to stick with a 50mm 1.4. This lens is great for events like this as you can get in nice and close to the cars and get some great depth of field (blurred backgrounds) in the shots.
Focusing on details is a great way to make the most of the limited people free photo opportunities available at a busy car event. Often the cars are so crowded you can only see a wheel or part of a rear light, so getting close up detail shots is the only option and often gives a unique perspective. Take a look at the shots we took from the Mini stand of the new John Cooper Works GP Concept. This thing looks great and has some great details like the re-worked carbon fibre bodywork that incorporates real downforce for improved handling. Its perfect for photography. There hasn't been much technical information released about the car yet as it's just a concept however, if it does go into production it's sure to be one hell of a thing to drive!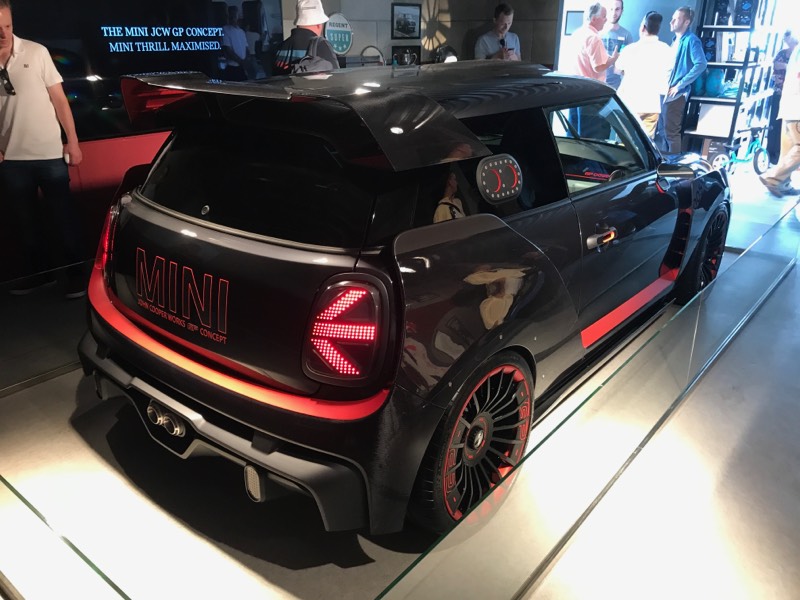 (This is the sort of image you'd get from just taking out your phone and snapping some photos. Keep scrolling to see what we managed to capture with our trusty 50mm lens).
This year whilst shooting for a project we also visited Gamescom in Cologne Germany. Naturally we spotted the new Mclaren Senna one of the stand out cars released this year. With 789 BHP and costing close to £1million after a few options, it's a car that will surly be a future classic. Similarly to the Festival of Speed, Gamescom is a packed event with over 350,000 people attending over 4 days. We couldn't resist getting a few shots of this masterpiece of a car. 
(So here is a quick photo we snapped on an iPhone of the car. It has such an interesting and intricate shape you don't know where to start when taking photos. Keep scrolling to see our results).
With these images we concentrated on the details of the Mclaren that stood out to us. The striking wheel design and the sheer aggression of the aerodynamics are just some of the cars best features. Sometimes less is more and embracing the shadows that are created by the lights at the event to create a subtle reveal of just parts of the car creates an enticing image you would'nt suspect was quickly snapped in just five minutes.  
At busy events, don't worry if you didn't get a photo of everything on display. We take photos of our favourite stuff and only take shots we will actually use. However, sometimes its better to enjoy whats going on in front of you not through a lens but just take a minute to drink it all in. Often its much easier to know what to take photos of if you take your time. 
We hope this helps next time you go to a busy event! 
Thanks for reading. 
Article by Harrison Hopton
COMEX VISUALS